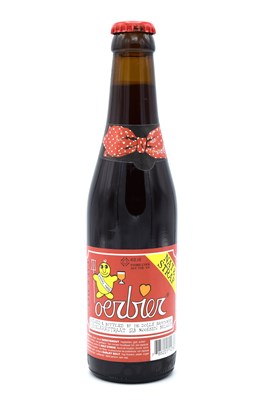 Oerbier, brewed in Esen by De Dolle Brouwers, is dark due to the mixture of different types of malt and hours of cooking time. Only 'Golding' bubble hop from Poperinge is used and all our beers are bottled with secondary fermentation.
SLIGHTLY FRESH ACIDITY
The name refers to the originality and purity of the beer. The specific gravity of the wort is 1078, the alcohol percentage 9%. Oerbier has a slightly fresh acidity due to the yeast and lactic acid bacteria.
The beer will experience a slight taste evolution and will become vinous. Samples of the first brew, which are still perfectly drinkable, are kept in the brewery.
STORE IN A COOL CELLAR
It is the first beer of De Dolle Brouwers and officially dates from 1980. It was brewed in prototype by two students in a copper wash bowl. Previous attempts with English ready-made kits turned out not to meet the strict beer requirements of the two brothers.
Preferably store this beer in a dark, cool cellar and pour at 12°C in a type of wine glass.